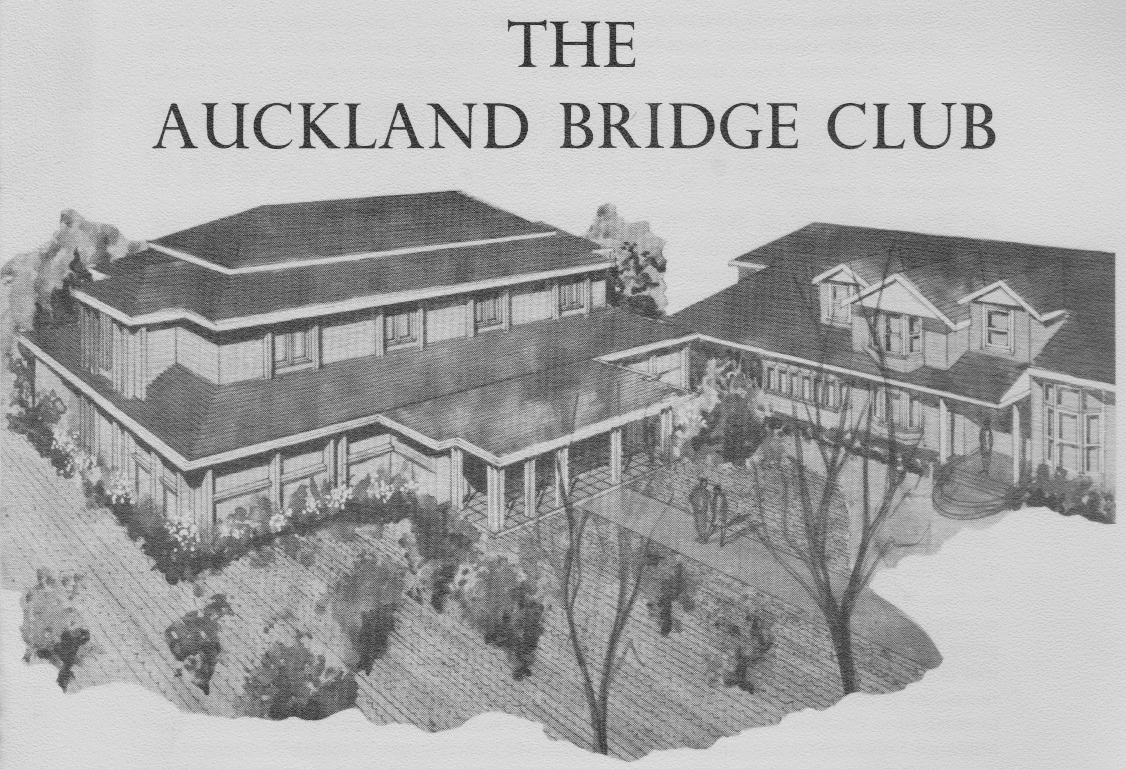 The Auckland Bridge Club premises at 273 Remuera Road, and Nathan House on the right, now removed.
The saying goes that if you start a good idea nothing can stop it. Members of the Auckland Bridge Club would certainly agree. As we celebrate 90 years of achievement since the foundation of our Club it seems an appropriate time to look back over those years.
Note: links below marked with a red asterisk (!) link to large files and may not be well suited to display on a mobile phone.
EARLY DAYS
During recent times we have all experienced the effects of redundancies, recessions, and pandemics. In 1931, when the club was born, New Zealand was part of a world-wide depression. Despite those adverse conditions a small group of enthusiasts not only established the club but more importantly they fought to ensure that it survived.
Official records show that six founder members first met at the rooms of the N.Z. Insurance Building in Queen Street, on September 18th, 1931. At the meeting they agreed to incorporate 'The Auckland Bridge and Social Club', as it was to be called until 1939. They instructed the Secretary to prepare a set of rules, then passed a vote of appreciation to Mr J.F. Hoskings for his work in connection with the successful formation of the club.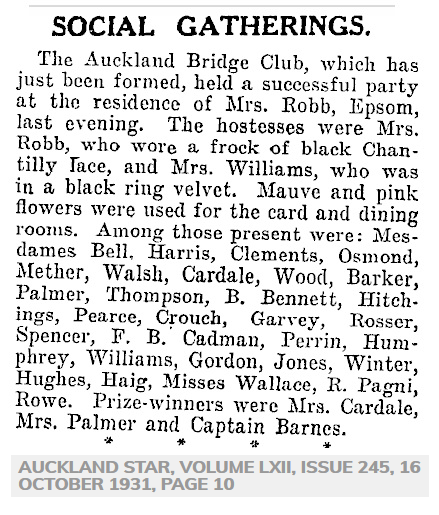 The second meeting in October attracted seventeen members and two visitors. A proposed constitution and set of rules were adopted unanimously. The committee obtained rooms in His Majesty's Arcade and agreed to try two nights a week for play. It seemed that the club was successfully launched.
But times were really tough. Before the end of the 1931 year, a couple of members had resigned and the committee was forced to write to a number who had not paid their subscription of ten shillings and sixpence (ladies five shillings). However the 'necessities' of life were not overlooked. It was agreed that the caretaker would wash and clean the room after play for five shillings, and the lift man was asked his charge to take members down on club nights at ll:20 pm.
Mrs Jenny Raynes remembered those days. She recalled the games which took place in private homes to raise funds and the donations of time and goods.
'One of the members, Captain Barnes, gave us plants from his garden for the club rooms. Every time we shifted rooms I took those pot plants with us. To this day we have some. I call them the Captain Barnes'.
Despite all their efforts, in May, 1932 a special meeting had to be called. Members present were forced to face up to the dire financial position of their club and to the resignation of their secretary. The emergence of Mr 'Polly' Morgan as secretary proved to be a turning point for the club. He devoted years of astute and dogged service to club affairs. First he prevailed upon the landlord to temporarily reduce the rent of £1 a month. He reported that the Farmers Trading Company would take back the furniture (in fact the club managed to hold on to their furniture). He advertised for more members and suggested that members 'donate' half their winnings to the club. It is intriguing to speculate on stakes!

The club survived but during that first year they ran through four Presidents (two of them women) and three secretaries.
After fourteen months there were forty five members and a credit balance of £9 11/- 10d. It was a rocky start.
By mid 1933 they were back in debt again and Polly Morgan was once again begging for credit. This time an agreement with the Chess Club to share rooms and cleaning costs brought financial relief.
Mrs MacNamara agreed to act as club hostess and to look after supper. At the 1934 A.G.M. she was named as the club's first life member in recognition of her services. Later her husband, who was President for two years, was also made a life member. Rules for Play were drawn up. Six players were allocated to each table playing on a cut in basis. Rule 6 wisely advised that members must not sit alongside a table and criticize the play or bidding of a hand!
Competitive play was introduced - men v men - women v women. Challenge rights were suggested with the Overseas Club as a possible worthy opponent. The first 'duplicate auction contest with prizes' was proposed. It attracted eight players.
In 1934 James Pascoe Esq. donated cups for a series of games to be called the Auckland Contract Bridge Pairs Championship. This remains a top competition to this day. Possibly that year's most novel competition was the presentation of a trophy to the member bidding the greatest number of vulnerable grand slams during the year.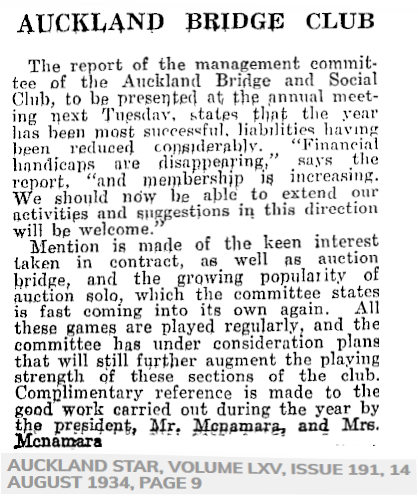 Polly Morgan continued to juggle finances with the dexterity of a magician. Monthly accounts fluctuated from a deficit to a few shillings surplus. Bruce Bell, a pre-war member, recalls how over a period of thirteen years Morgan acted as Secretary, Treasurer and finally President.
'He did everything from banking to directing to scoring. He still found time to play and even to win the Pascoe Cup.'
High praise from a man who was himself a life member and was awarded the MBE for services to bridge.
Not surprisingly the name N.O. Morgan is listed on the illustrious list of Life Members and the Morgan Memorial Rose Bowl continues as a lasting tribute to a tireless worker.
By the mid thirties the club had moved to rooms in the Pacific Building, now the ASB.
New members joined including Mrs Irma Dodd. She recalled playing in those days with her late husband.
'He loved the game. I sometimes wondered if I came first or second to the Bridge Club!'
It seems appropriate that the club continues to enjoy the Wes Dodd Memorial Pairs Tournament.
WAR YEARS
C.D. Warren was President during the early war years.
In 1939 the committee decided to open the club every afternoon and most evenings and to install a telephone.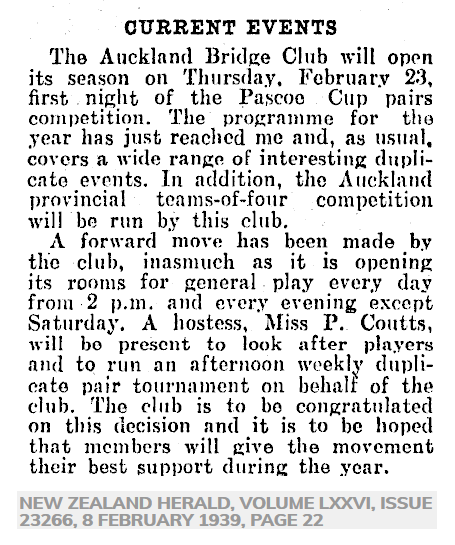 They engaged a hostess Miss P.B. Coutts. Her wage was £2 10/- weekly. It was an investment which rewarded the club one hundred fold. Miss Coutts' dedication, enthusiasm and ability to organise and direct tournaments is still remembered with awe. She did not suffer fools gladly and dealt firmly with recalcitrant players. She also built up the highly successful Friday afternoon sessions.
'We ended up playing in the passage and even in the cloak room but nobody wanted to miss out', Jenny Raynes said.
At the 1941 A.G.M. Mr Warren reported that despite difficulties of blackouts and transport, membership stood at 190. Members decided that soldiers should be admitted to play free of charge.
During those war years Jenny Raynes remembered that on Wednesdays there was no bridge.
'It was a very active day. Some members sat at sewing machines while others cooked to provide goods for our soldiers.'
In 1941 the books at last showed a healthy credit balance, so the committee agreed to reduce table money for rubber bridge to one shilling - probably the only time in club history that table money was actually reduced.
Today's members will be interested to note that the minutes of 50 years ago record the emergence of three issues which remained for many years.
Reserving of tables - it was suggested that players be charged 3d to reserve a table.
Afternoon tea - it was suggested that sandwiches be replaced with bread and butter and there be no fancy cakes except for parties. N.B. Both Jenny and Irma laughed when reminded of this. 'Of course it didn't happen.' Jenny said. She should know as she has spent countless hours working in the club's kitchens and in addition for ten years did beautiful floral arrangements. Little wonder she was made a life member.
Smoking - it was proposed that there be no smoking during tournaments until supper; this to be put to the vote at the next competition. Results NOT recorded!
By the end of the war the club had opened a Savings account with the ASB. The big push to a club-owned property had begun.
POST WAR YEARS
Mr W.F. 'Bill' Williams who joined the club in 1939 served two terms as President, his first 1946-1950. It was in this period that membership was further stimulated by Miss Coutts adding to her duties the task of teaching bridge on two afternoons a week.
Mr Bruce Bell was on his way towards establishing a formidable record as a player. Although he thrived on challenge at the bridge table, he also accepted the challenge of attracting more players to the game.
In October, 1949 he and L.N. McKillop began a 'Bridge on Air' programme over the wireless radio station, 1YA. It was novel, educative, and an encouragement to bridge devotees.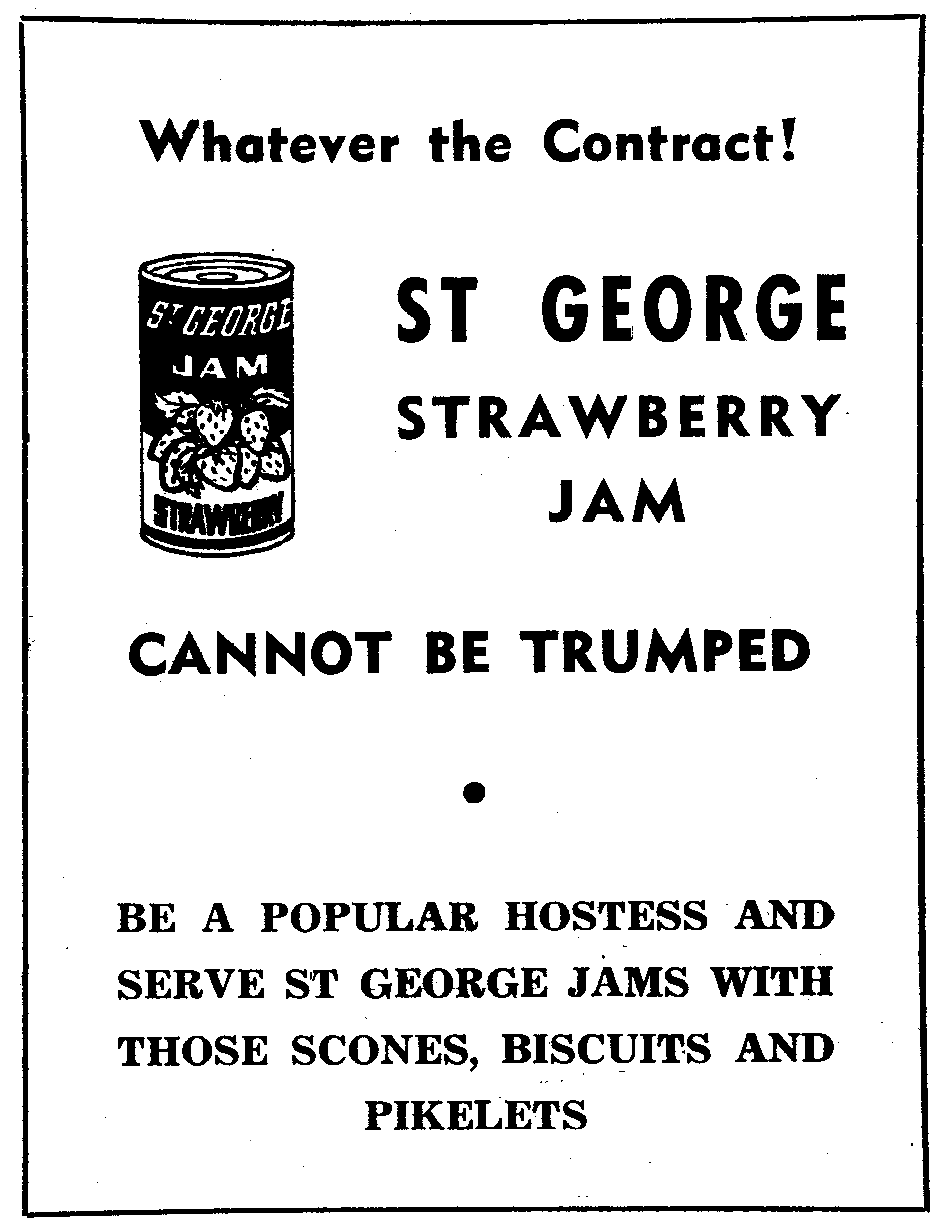 In later years Bruce Bell, in partnership with Rex Evans, went on to win countless tournaments and trophies in New Zealand and overseas. He has always remained loyal to the Auckland Club, the first bridge club that he joined.
In 1991 he was again present to introduce play at the Bell/Taylor Tournament. Mrs Eileen Taylor was an outstanding player, a life member of the club and his partner for a quarter of a century. She received his highest accolade.
'She played like a man', said Bruce Bell, a man above most men at the bridge table.
THE FIFTIES
By the 50's the club had outgrown its rented rooms in the Pacific Chambers. The Building Fund had only reached a modest $3,000 but during Bill Williams 1956-1960 term of office he and his wife searched tirelessly for alternative premises.
Club members were canvassed for financial support which they gave in the form of debentures. A property in Airedale Street was found and club rooms were built and furnished.
In the minutes, Bill Williams notes: This project is like Pilgrims Progress; the building being a compromise between what we would like and what we can finance.
In late 1959 the club moved to its first owned premises, then reputed to be the biggest club rooms for bridge in the world. The total cost including land, buildings, furniture and carpet was $42,000, only $8,000 of which was borrowed commercially. It was a remarkable achievement and one that enabled later expansion of the club to Remuera to take place.
THE SIXTIES
The committee was understandably now able to concentrate on their first priority - the game of bridge. Speed of play and bridge ethics were discussed.
A complaint concerning a member who was heard to force discussion on private business matters within hearing of other members was discussed. The member involved was reprimanded 'there must be no reoccurrence of this; members come to relax and to be dissociated from business matters.'
The late Mr and Mrs L. Bond held lessons which attracted fifty people at a time, a valuable source of new club members.
Books were purchased to form the nucleus of a bridge library. Today we have an extensive library as a result of this and the generous donation of books from the late Mr Harry Williams.
The Bulletin, under the enthusiastic editorship of the late Harold Fenton, became sought after in bridge circles, costing 6d. It led eventually to the N.Z. Bridge Magazine which is still published. Read ! Issue 1 and ! Issue 12. The last issue was published in 1964.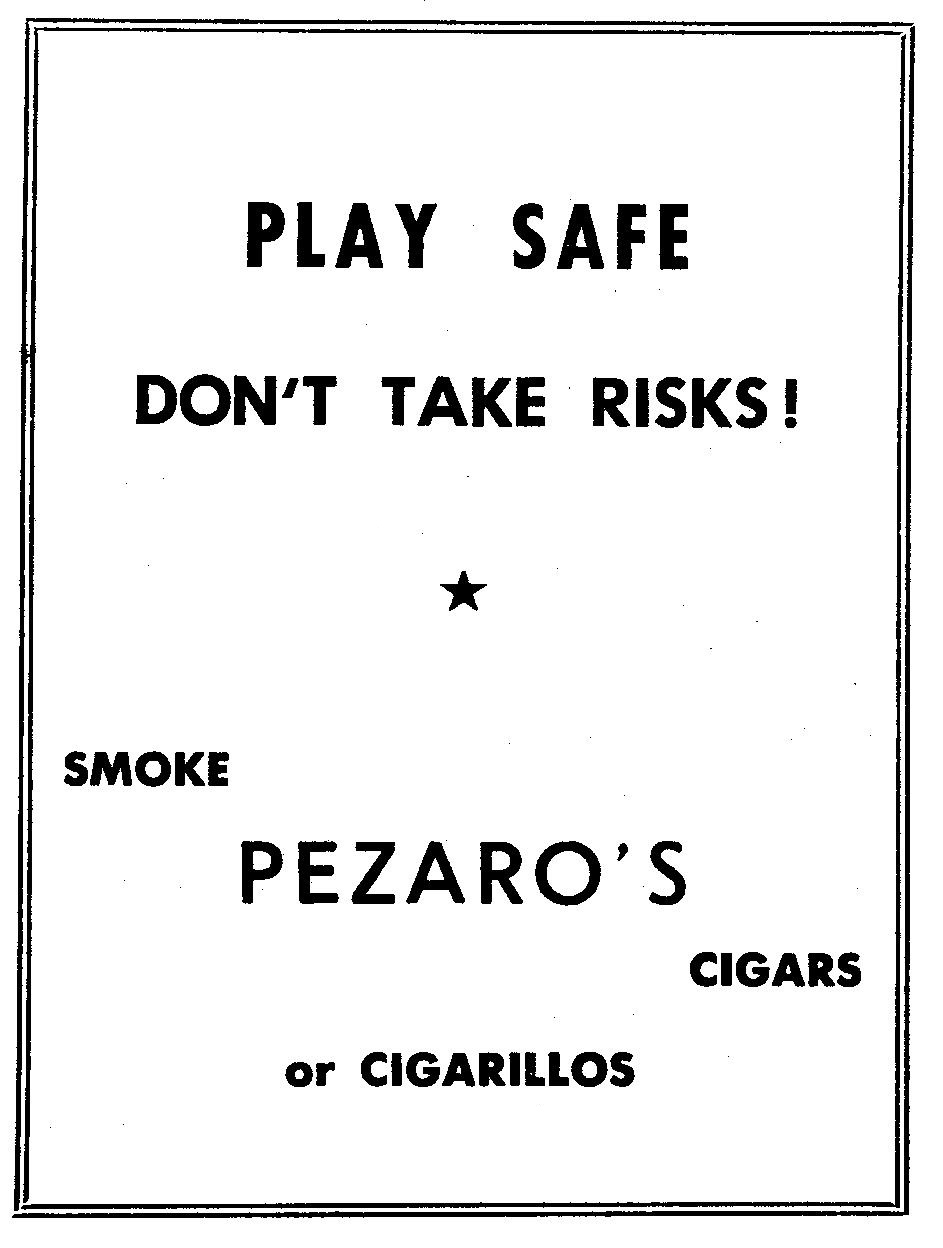 Membership mushroomed. It was even suggested that a ceiling of 700 members be enforced. The motion was lost.
By 1968 there were 748 members. They wore out the carpet which was replaced at a cost of $2,092.
During this year the club welcomed a distinguished visitor, Mr Charles Goren, 'The King of Aces'. Although he did not play he spoke to members about the game that he loves.
Somerset Maughan, who rather fancied himself as a bridge player, once said: 'The little I know of the game I learned from Goren.' Many of us would agree.
Car stickers. Some problems never go away. In the 1961 Annual Report is was noted that 'During the year car parking became a problem. Without some method of identification unauthorised parkers could not be picked out. Car stickers have been printed and given to members to display inside the rear windscreen. These have greatly clarified our parking problem.

Images of the premises at Airedale Street - click to view: !


THE SEVENTIES
Insufficient space and the loss of off-street parking at Airedale Street forced another move. The Airedale property was sold for $86,000 enabling the purchase of our present Remuera property in 1971. The move was not without pain.
'Hal McCowan laid his head on the block to take on Remuera'. One member said feelingly.
It is a matter of history that considerable opposition had to be overcome before the property was purchased.
President from 1968-73 Hal McCowan recalls those torrid times. 'I had some pretty staunch supporters such as John Carroll and the late Hal Taylor (husband of Eileen Taylor). Hal actually found the property but it required a unanimous vote from the committee before we went ahead. Financially we were committed in all directions. It was a bit of a problem at times.'
Concern over finances and the effect of the move from the inner city area to Remuera caused 131 members to resign on one night. They formed the Central Club. Many later drifted back to the Auckland Club.
Read ! Foundation Days ... And After - a history of the club prepared by D. W. Lochore just prior to the move to the Remuera premises.
'Within twelve months of the move to Remuera we had over 1,200 members'. Hal said. 'Bridge had become fashionable'. The new two-storey club rooms were opened on September 18th, 1971, not without incident. When the ladies toilets were flushed all the hot water from the cylinder ran through them. Ventilation was then, as it still is, a problem. There had been expert advice given about exhaust fans but at the first tournament it was hardly possible to see across the room. Outside a solid column of [cigarette] smoke emerged.
Hal McCowan thought that circulation of air would always be a problem. He recalled the time when the late Jack Tunicliffe wrestled unsuccessfully to open a window for a player who was feeling the heat. Afterwards the elderly lady thanked him and said how much better it was. 'It was stuffy all morning until you fixed it', said another.
Towards the end of the seventies the club was feeling the effects of increased travel costs and competition from several suburban clubs. Membership fell dramatically. Once again the committee undertook positive moves to stimulate growth.
The 1969 President's Report had noted the surging popularity of duplicate bridge and the decline in the amount of rubber bridge played at the club. The Rubber Room became sparsely attended, the services of the hostess were deemed unnecessary, and it was finally closed in 1974.

THE EIGHTIES
The 1981 Golden Jubilee celebrations provided the perfect opportunity for members to reminisce, play in the Jubilee Tournament and be entertained. Under President Mrs Yvonne Woollams' leadership the festivities were an unqualified success. The 80's were well launched.
They proved to be a time of consolidation helped by the ten year tenure of Mrs Betty Winders as secretary.
'This club will always be my first love', she said. 'Bridge has been my life saver. There are many others like me'.
She recalls the dedication and hard work of successive Presidents and their committees.
'Meetings would often go until one in the morning while we thrashed out the issues. We went all out to get more members', she added.
There were lighter moments. She remembers one Friday when the Director rushed in during the tea break. 'Get a plumber', he said, 'one of the ladies has lost her teeth down the toilet'. The woman concerned later sat with her hand over her mouth while she played out the session!
Smoking. Smoking appeared endemic to bridge culture, with many members apparently unable to play a deal without a cigarette in hand. At the end of the night the far end of the room would disappear in a foggy haze. But the dangers of smoking were well known from early on. Note the comments from an English judge in 1923:
A London cablegram states that Mr Justice Avory scathingly commented on the dissipated life led by many men and women frequenting London bridge clubs. His remarks were the outcome of a claim for damages for breach of agreement in connection with a bridge club. Mr Justice Avory said that many women were spending eight hours daily playing bridge, drinking cocktails and whiskies, and smoking cigarettes. It was shown in evidence that some women smoked 60 to 80 cigarettes in an afternoon, while one reached a total of 140. - Wairarapa Daily Times, 18 May 1923
It is somewhat surprising then that bridge clubs were early adopters of smoking restrictions, albeit hotly contested by some members. The battle began in the eighties, but it was not until 1991 that a full smoking ban in all rooms was adopted.
THE NINETIES
By 1989 membership was on the way up again. Due to an active bridge teaching programme the upwards trend continued with membership reaching well over the thousand mark. While night time numbers were down, day time numbers of players were soaring.
Monday and Wednesday sessions were the starting ground for new players while Friday continued to attract large numbers who could choose to play in any one of three sections.
Current full time director Patrick Carter first started directing at the club, just on Thursday nights, in 1991.

On one Friday a lady was overheard asking her partner where she had got a table. When told it was in Section One she groaned, 'Oh no, not with the piranhas!'
Members enjoyed the regular attendance of Mr Albert Stern and were happy to celebrate with him on the occasion of his one hundredth birthday in 1990.
Another feature of the nineties had been the steady refurbishment of club facilities. The generous bequest of $24,000 from the Elsie Hubber Estate gave this programme a major boost. Current members also assisted through debentures and by supporting the five year membership proposal. The Auckland Bridge Club then had a book value of one million plus dollars. Club members are fortunate that over the past years there have always been people with vision and integrity who have responded to the challenge of making it prosper.
1991 Committee:
President: Mrs J. H. Barnard
Vice President: Mr G.V. Wilkinson
Hon. Treasurer: Mr R.W. Ballard
Committee Members: Mrs J. Chan, Mrs A. Gilbert, Mrs J. Harwood, Mrs M. Hobbs, Mrs K. Sayers, Mrs C. Wilkinson, Mr D. Dowthwaite, Mr A. Fleet, Mr R. Kingston, Mr P. Jephcoate
Secretary/Manager: Mrs PD. Weatherby
Images from 1991 - click to view: !




2000-to date
Nathan House, which had become too costly to maintain, was sold c.2004; it's space reclaimed for much needed car parks.

The club had continued play through the second World War, but the covid pandemic caused the longest period in the club's history without play, in 2020, for eight weeks late in the year and another three weeks in early 2021.

See here for a list of past presidents, directors, life members, and trophies currently awarded.
Postscript
This pen sketch does not pretend to cover the past 90 years in detail - time and space do not allow this. It is selective and subjective but every attempt has been made to make it accurate and hopefully, interesting. There are many presidents, secretaries, notable players, directors and teachers who are not specifically mentioned. The club appreciates their contribution and acknowledges the debt of gratitude we owe then.
Contract Bridge is an enthralling game. Our club offers fine facilities to its members for competitive play. As we look back, perhaps the last word should go to past member Jenny Raynes:
'The club wasn't founded just for the advancement of individuals. It was a SOCIAL club so let's not be harsh with one another. Let's enjoy our bridge.'
---