ONLINE PROGRAMME
Day
Open Sessions

Links to Sessions


Education

Monday

1:00pm

7:00pm  6


Open Session - Mon 24th Jan 1pm

7:30pm on RealBridge for beginner/novice players.  Restarts Monday 14th February at the club ¹

Tuesday

1:00pm  6


7:00pm

Open Session - Tue 25th Jan - 1pm

NOTE: We are taking a summer break from the Improvers 2.30pm Tuesday session until March.  

Wednesday

1:00pm

7:00pm 4

7:15pm 2

Open Session - Wed 26th Jan - 1pm

Open Session - Wed 26th Jan - 7pm

Thursday

1:00pm 7


7:00pm

Open Session - Thu 27th Jan - 1pm

Friday

1:00pm

7:00pm

Open Session - Fri 28th Jan - 1pm

Saturday

1:00pm

7:00pm 6


Open Session - Sat 29th Jan - 1pm

Sunday

1:00pm

7:00pm 


Open Session - Sun 30th Jan - 1pm

on BBO




Every day

9:00am
Until midnight
Casual bridge in the Social Room. For more information and to book a table, click here.

There is no need to pre-register for most tournaments.  Everyone is welcome to play.   When you log in you must enter your full name and NZ Bridge number if you have one.  Look up NZBridge to find your number if you have forgotten it. You should be able to find a partner in the lobby if needed. If you haven't played on RealBridge before, there is some preparation you should do - read the Guide and perform the Camera and Audio test in the overview section below.

To join these sessions just click the approriate link below, at least 10 minutes before the start time. 

A $5 session charge applies to most sessions. This is paid via a Hello Club account.  Visitors please ensure you set one up.  Click the VISITOR menu item above to create one.  AKBC members, you already have a Hello Club account.

Directors:  Patrick Carter, unless indicated.  

¹

Julie Atkinson.  ² Kevin Hu.   ³ Jeremy Fraser-Hoskins. 4 Douglas Russell.  5 Mike Dunn.  6 Sylvester Riddell.    7 Duncan Badley

Hands of the Day:  for notable hands with expert commentary see here.

Kibitzing: Kibitzing is enabled for most evening sessions on a small delay.  To kibitz click here:  RealBridge Kibitz Server
Substitutes:  Players able to fill in as substitutes are needed and welcome for every event.  When you log in to the session and '(Sub)' to the end of your name so the director knows you are willing to sub.  Substitutes are needed most often just the the session starts and during rounnd one.  Watch for messages in the lobby telling you where to sit.
Need a Partner: Log into RealBridge 15mins before the session starts, stay in the LOBBY and use the chat box to write to the Director and other players you need a partner. The Director will try to assist you.
Club Session: To be eligible to win cllub events you must be a member.  For the Jubilee cup at most one partner can be open grade; For the Caddy cup and Spring Pairs, neither partner can be open grade.

Masterpoints:  NZ Bridge has permitted the awarding of masterpoints for RealBridge sessions on a very limited trial basis from 1st Dec 2021 to 31st March 2022, and only when the club is closed due to covid restrictions.

If the link appears to be for last week, more than likely your browser is displaying an old copy of the page click here to see how to force the browser to load the lastest version.
To join the session click on the appropriate link below:
Sunday 7pm Tournament - you can usually find a tournament for kiwis hosted by PATRICCK on BBO
Open Session - Mon 24th Jan 1pm
Open Session - Mon 24th Jan - 7pm
Open Session - Tue 25th Jan - 1pm
Open Session - Tue 25th Jan - 7pm
Open Session - Wed 26th Jan - 1pm
Open Session - Wed 26th Jan - 7pm
Akarana Expert Pairs - Wed 26th Jan - 7:15pm
Open Session - Thu 27th Jan - 1pm
Open Session - Thu 27th Jan - 7pm
Open Session - Fri 28th Jan - 1pm
Open Session - Fri 28th Jan - 7pm
Open Session - Sat 29th Jan - 1pm
Open Session - Sat 29th Jan - 7pm
Open Session - Sun 30th Jan - 1pm
Sunday 7pm Tournament - you can usually find a tournament for kiwis hosted by PATRICCK on BBO
RealBridge is an internet site where you can play bridge. 
It is similar to BBO which you are probably more familiar with, but you can see and talk to the other players at the table using the camera and microphone on your device (laptop, tablet, computer, not smart phone the screens are just too small).  You can still play without the video and audio if you dont have it. It is a cross between a Zoom meeting and BBO, with players able to see and talk to their partners and opponents.  Online bidding boxes, alert cards, and the playing cards appear in the middle of the screen.  
Camera and Audio test - these cause most of the problems, but camera and audio are not essential.  Test your equipment now, no need to wait until just before the session to find you have an issue.
How to play in these sessions:  read the guide below, run the test, and on the day join the tournament/session by clicking the session link no earlier than 30 minutes before the start.  You don't need to pre-enter.  If you don't have a partner you might be able to organise one if you join the session in good time.
The first time you login, your browser might ask you to authorise oceania.realbridge.online to use your microphone and camera.  You need to click Allow to enable video and sound.  Cannot get it working?  Just log in anyway and there will be someone waiting in the lobby to help.
Guide for players:
Read the guide
Test your camera and microphone (these are not essential but the experience is better if you have them).  Don't leave it to the last minute, you can perform this step now.
You don't need to create a login for RealBridge - you just enter your name and number when you first join a session.
You don't go the RealBridge site to find the session, you click the link to the trial above.
The session should be open 30 minutes beforehand. 
There may be some instructions to read in the lobby.    
Sit at a table. If you have a partner sit at Tables 1-9.  If you are single sit at a higher numbered table.  You can chat with other people at the table while you wait.
Limited bandwidth
RealBridge requires more bandwidth than BBO. If you have a weak connection you can turn off your camera and/or the incoming video to reduce bandwidth requirements.
What devices does RealBridge run on

RealBridge runs on any laptop, desktop computer or tablet that supports video calling from a web browser.  On Windows PC, Apple macOS or Android tablet you can use any modern browser, such as Chrome, Edge, Firefox or Safari. (Note: older versions of Edge and Internet Explorer do not work.)  On an Apple iPad you can use the Safari or Chrome browser.
VPNs: Most VPNs are incompatible with the technology used by RealBridge. Using a VPN will often prevent connections to RealBridge, or interfere with the video.
Internet security software: Some "safe browsing" or ad-blocking extensions can interfere with RealBridge. This may prevent a connection to RealBridge, interfere with video, or cause players to be repeatedly disconnected or moved to the lobby. If you experience this type of problem, try temporarily disabling any extensions of this sort, or to whitelist the RealBridge server (oceania.realbridge.online).
Do I need a camera, webcam or microphone?
RealBridge does not require a webcam to run; you can play without being connected on video or audio calls.  The experience is better with them, however.


Any queries email here:  RealBridge at Auckland Bridge Club.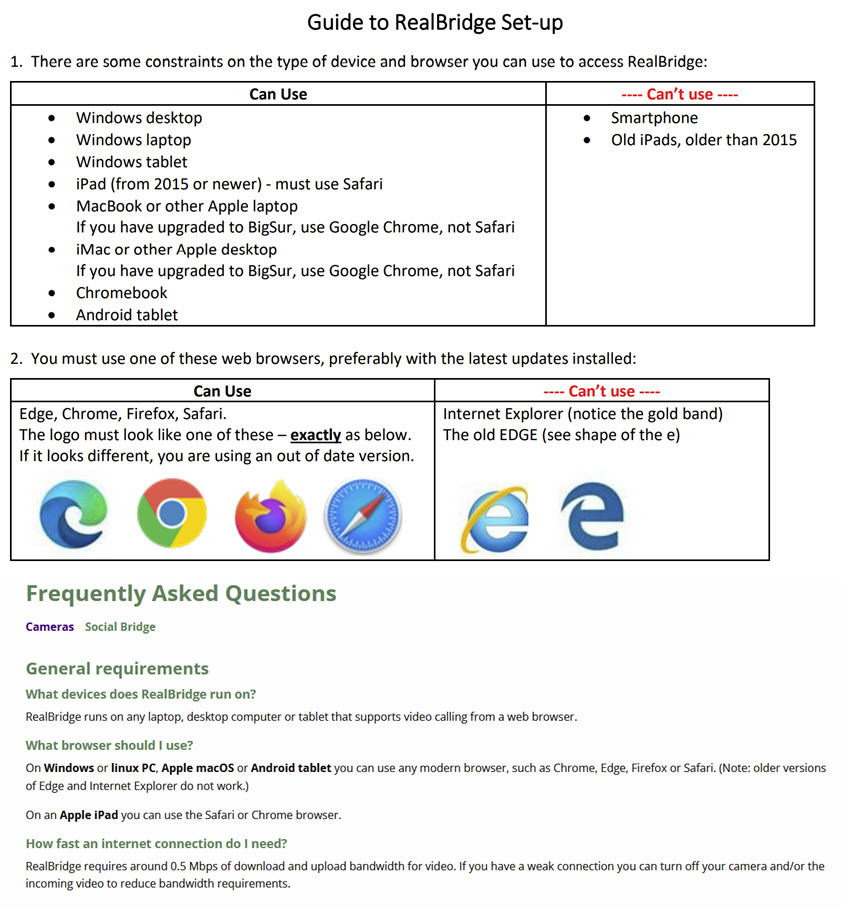 How to Refesh the page in your browser:
In most browsers on PC and Mac, you can perform a simple action to force a hard refresh. Hold down the Shift key on your keyboard and click on the reload icon on your browser's toolbar: 

There are also some keyboard shorcuts:
Chrome, Firefox, or Edge for Windows: Press Ctrl+F5 (If that doesn't work, try Shift+F5 or Ctrl+Shift+R).
Chrome or Firefox for Mac: Press Shift+Command+R.
Safari for Mac: There is no simple keyboard shortcut to force a hard refresh. Instead, press Command+Option+E to empty the cache, then hold down Shift and click Reload in the toolbar.
Safari for iPhone and iPad: There is no shortcut to force a cache refresh. You'll have to dig into settings to erase your browser's cache.
If none of these seem to work, try opening a new private/incognito window and accessing the page from there - that is guaranteed to be the latest version of the page.