It has been a special year and we wish everybody a happy end to 2020 and a fresh start to 2021.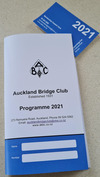 The financial results were presented at the AGM in mid-November for the year ending June 2020. The accounts were produced on time, and showed a $6,000 loss.  The audited accounts, President's and Treasurer's reports are available on the club website.
Once again thank you to all those who donated to the Club during the lockdowns. Thank you to those who ensured we got our fix of Bridge during the Lockdowns - Patrick Carter, Julie Atkinson, Sylvester Riddell and the many others who helped on the BBO.
The new ClubHub electronic ticketing has successfully kicked into service and now covers all of club session table money. We would like to thank all members for embracing the change.
The annual Club Christmas Tournament on the 5th December, which included lunch and complimentary refreshments, was a joyful social event with 80 members attending.  It is an opportunity to mix with and meet new people within the Club.  North South winners were Ray Kingston and Sue Sundberg, East West winners were Camilla Lornie and Ant Hopkins.
Christmas Week
We have a range of wonderful hampers in this year's Chrismas prize raffle, which will be drawn in the final week of play. Tickets for the draw are wonderful value, yet again. Thank you to Cheryl Parsons for organising the beautiful display.
New Year Tournament 
The very popular Babich Holiday Pairs will run on Tuesday 5th, Wednesday 6th and Thursday 7th January, with a  7:30 pm start. You can play one, two or all three sessions in this 5A event, remember you and your partner do not need to pre enter as it is a walk-in event. 
Subscriptions 2021
Automated emails for the 2021 subscriptions, unchanged for several years at $123 including the $23 New Zealand Bridge Levy, should be in your inbox.  Please contact the Club Office with any difficulties.  Members can pay be EFTPOS, by direct credit or online with any major credit card.  We no longer accept cheques as our local bank branch has closed.
It is very helpful to the Club if members can pay during Janaury.
Board
We welcome newly elected Board member Sara Worth, a recent graduate of the club's bridge education programme. We also thank Terry Melhuish for his service to the Board who is standing down. Please feel free to contact any member of your Board with ideas or queries. 
President AJ Hopkins
Treasurer Anne Barrowclough
Wayne Gyde
Peter Hoskin
Sylvester Riddell
Mark Robertson
Sara Worth
Education
Despite difficult conditions the education programme, headed by Julie Atkinson with an array of invaluable helpers, seems to be retaining newer players and providing a comfortable social atmosphere.
We also thank Janet Barnard for her many years of Teaching and Directing on Monday evening, as she has decided to step back. Thank you so much Janet for your outstanding contribution!
We would like to thank all those helpers who have given up their time to assist with the Beginners, in particular to Mark Robertson, Sylvester Riddell and Jan Ashwell.
The new Tuesday 12:30 session (lesson followed by play) for improvers approaching intermediate level now has five tables each week, drawn mainly from the successful Thursday morning supervised play session which attracts 12 tables. Julie's team also run online beginners bridge sessions.
From early 2021 we'll see a new team complementing the education programme to help new players and members integrate into the club:  that team includes Sara Worth, Wendy McEntegart, Nicoletta Bartoli, Jeremy Fraser-Hoskin and Setsuko Lichtnecker.
2021 beginner lessons kick off on Monday March 1st and seminars are also planned for 2021. 
2021 Club Programme and start times
The Booklets are now out, a few changes of members phone numbers, permission was given: 
Lanelle Monreal 021 878 133 or 09 281 0337
Check the dates in your Club Programme for the first sessions next year.
Session

Start

From re-open Monday 11th January 2021- check your session

Mon AM

11:00 am

26-ish boards, Lunch break

Mon EVE

7:00 pm

7:00 lesson
7:30  supervised play, 12 boards, beginner and novice

Tue PM

12:30 pm

Lesson, play starts 1:15. More challenging supervised play, upstairs,15 Boards, Novice++ and Junior

Tue EVE

7:15 pm

26-ish boards

Wed AM

11:00 am

26-ish boards

Wed EVE

7:15 pm

24-ish boards

Thu AM

9.30 am

Supervised play, 15 boards, Novice & Junior

Thu EVE

7:15 pm

26-ish boards

Fri AM

10:00 am

24-ish Boards

Fri PM

1:15 pm

Players attending both the Friday AM and Friday PM sessions play the afternoon free

Interclub

7:30 pm

Teams monthly Fridays 

Tournaments

See NZB Tournament website, click HERE

Lessons

As advised, regular through the year.  Next start Monday March 1st 2021. Contact the Club Office for details.
The annual Programme booklet is available at the club. 
Questionnaire results
We ran two questionnaires to gauge the views of members about start times and were delighted with the responses of 430 and 330 members respectively.
The evening session start times proved relatively simple to resolve, as below: we stay at 7:15 pm start.
Do you (or did you) regularly attend Tuesday, Wednesday or Thursday evening club bridge sessions? If so, which start time do you prefer?

Responses

Yes, I do attend regularly, and I don't mind what time they start

19.7%

28

Yes, I do attend regularly, and I prefer 7:15 pm start

50.7%

72

Yes, I do attend regularly, and I prefer 7:30 pm start

29.6%

42

Total (of 331 responses)

142
The Friday answers were more difficult.
Do you regularly attend the Friday afternoon session upstairs?

Responses

Yes, and I don't mind what time they start

30.6%

15

Yes, and I prefer 12:15 pm start

32.7%

16

Yes, and I prefer a later start at 1:20-ish pm

36.7%

18

Total (of 331 responses)

49
Do you (or did you) regularly attend Friday morning club bridge sessions?

Responses

Yes, and I don't mind what time they start

14.6%

19

Yes, but I prefer 10:00 am start

40.8%

53

Yes, but I prefer 11:00 am start

44.6%

58

Total (of 331 responses)

130
The 10 AM numbers are broadly the same but 1:15 PM numbers up substantially, partly due to restricted international travel.
On Fridays, our busiest day of the week, we have irreconcilable demands on staff and parking.
Those finding 10 AM Friday start time difficult have the option of attending the later Friday session.
Our Board's unanimous decision to maintain the Friday 10 AM and 1:15 PM times was taken after much thought and in adherence with the constitution, as "... having regard for the best interests of the club.".
We remind members not to visit to the club if feeling unwell.
Most of all, enjoy the Christmas Break and we look forward to seeing you all in 2021.