2015 President's Report
The Club has had particular success in the last year: we won the national Club Championships for the second year in succession; we have grown our teaching capabilities; and we have kept attendances  roughly flat but membership is not growing. But most importantly, our financial position is substantially improved (see 2015 Final accounts and auditor's report).
Summary
2015 was a good year for the Club after many years of break-even results. Our financial results for the year ending June 2015 showed a surplus of $93,000, which includes a one-off gain of $39,000 from a rates' rebate. Aligning table money and subscriptions with inflation, the changed catering arrangements and close attention to detail have contributed to the financial improvements of the club.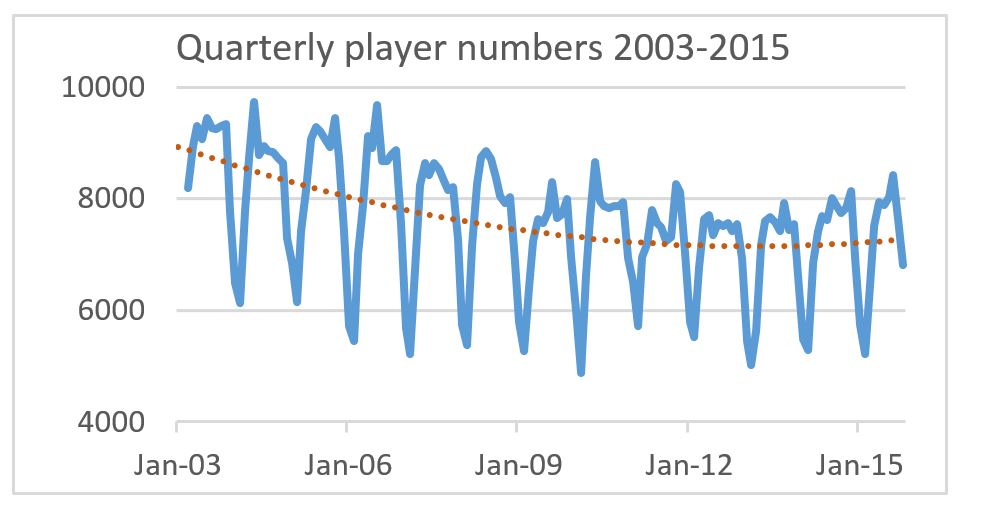 The drop in membership numbers may not be as steep as meets the eye due to tighter quarterly reconciliations in the NZ Bridge Levy returns, but nevertheless we are not growing our membership. Table money revenues at $202,000 are nearly four times greater than subscription income.
After the close of the AGM there will be a short presentation from Committee Member, Mark Robertson. Mark will discuss options for what you, as members, want from your Club, which includes the future of the buildings. In particular:  
the long term outlook of falling attendances and membership (a problem shared with all kinds of organisations)

an unsolicited offer to purchase our premises from a property developer of $9.6 million (and a General Valuation of $7 million)
At this stage we are not seeking any action from members:   we just wish to keep you informed and we expect wider discussions to take place with members in the new year. You can see Mark's presentation by clicking on Building.
Club staff
As we approach their second anniversary, we should congratulate Deborah Tangney and Ann Weatherston for being able to work together so well, and keeping the Club Office running smoothly. And of course to our Director Patrick Carter for his continued outstanding contribution to the well-being of the Club and its members: he's been our Director since early 1993 so a big anniversary is looming.
Other staff require a mention for their hard work. Behind the scenes few of you will be aware that Bill Fairs and Leah our caretakers keep the premises, outside and inside, spick and span.   In addition, Barbara Mitchell and Emma Worthington, who run our catering, have adjusted well to the new demands of our kitchen since changes were made about a year ago, and provided a good service.
Costs
As part of our five year plan we have succeeded in reducing the net cost of catering, which is now about $10,000 annually compared to a $30,000 loss previously. We've also smartened up the downstairs Ladies' bathroom, which cost about $10,000, but clearly there is significantly more expenditure required to keep the buildings maintained to an acceptable and sustainable standard.   We have placed a digital advertisement sign at the corner of Armadale and Remuera roads but it is not easy to measure the success of this.
The Committee has paid close attention to operating costs of the Club as shown by the $93,000 surplus including the $39,000 special item.
We owe special thanks to Owen Hayward who secured the ongoing halving of our rates and the rebate due to a re-classification of the property from residential to recreational, and his lobbying.
There have been no changes to our major tenants, Akarana and Eastern, and we continue to attract ad hoc rentals but perhaps not to the degree we should due to the appearance of the Club rooms: they need to look better to sell better.
Lessons
The beginners' lessons have again been provided by Christine Wilson, Stanley Abrahams and various helpers. Christine is retiring this year and we should thank her for her many years of dedication. The 'supervised play' sessions on Mondays and Thursdays (the latter currently run by Julie Atkinson) have also seen increased attendances.
Douglas Russell's Advancing Players' seminars are now fully in flow and the recent Ron Klinger and similar events were a success. Douglas and his sub-committee have pulled together a full teaching programme for 2016 and I hope you will both enjoy attending some of the events, and encourage friends to come along and learn bridge at our new-style beginners course.
The key issues with beginners seem to be making sure there is plenty of time to learn (so we are now offering 20 lessons rather than 10 intensive lessons), and forging a route from lessons through to supervised play with mentoring so that the bridge playing habit is formed. Currently we 'retain' only about a quarter of those who attend our beginner lessons. The new beginner lessons have full collateral, by which we mean quizzes, tests, examples, slide shows, notes, online access and a standardised approach which should greatly help our beginners in making solid progress, albeit at a less demanding pace. The core materials were prepared by NZ Bridge.
We have advertised the teaching roles on our website and have so far received about half a dozen excellent applications.
Committee
Three Committee members, Tracey Lewis, Anisia Shami and John Collins are standing down after making valuable contributions to the Club and we should thank them for their efforts, as well of course to the Committee Members standing again.
Tracey's contribution will have been noticed by you all, especially her fund raising. John has worked away behind the scenes organising evening Standby's and the Committee is seeking help from regular session attendees to see if there is a way of managing Standbys even better. Some other Clubs have 'Convenors' for each session and perhaps this would be an idea where some additional volunteering would be beneficial.
Many of our Committee members are very busy with their 'other' lives and I'd like to congratulate Allan Morris on his recent appointment as President of the NZ Bridge Foundation, and also to mention that I am on the Board of New Zealand Bridge. Anne Barrowclough has recently stepped down as CEO of Garden to Table, Sharon Marryatt runs her own accountancy business, and more.
Behind the scenes
Birgita Muller, our almoner, had had another busy year but please remember to advise the Club Office of any members in need so that we can see where we might be able to help. She is also looking for someone to assist her in the role of Almoner.
The Quiz Night was again a success and was a tribute to the effort again by Angie Fitzgerald and Tracey Lewis: and not least to Patrick Carter, Peer Bach, Julie Atkinson and Douglas Russell who sold their souls to the highest bidders. And we need to recognise all those who help out at tournaments, keeping the bidding boxes and table numbers ship-shape, bringing flowers, acting as standbys, helping in lessons, looking after the Bar (Russell Watt), and so on. There isn't time to give credit to everyone and if I've missed you, I apologise.
After doing 36 editions of the Club newsletter it was my pleasure to hand the role over to Babs-Merel de Visser, and she's kicked off well with a new fresh style.   Please contact her with news and snippets: she publishes the newsletter in the first week of each month and the last few years of these are available at Newsletters.
We should also acknowledge the generosity of our sponsors who contribute around $11,000 a year. Please mention the Club when you use sponsors' services so they can see they are getting value for money.
Looking forwards
The Committee intends that table money and subscriptions remain unchanged until further notice. We understand the NZ Bridge Levy will remain unchanged for next year.
As we said last year, we aim to cover expenditure through a combination of donations, bequests, fund raising and continued tight control of operational expenses. There will be further call for donations in your 2016 subscription invoices. And just to remind you, you can claim back about one third of any donation you make to the Club so a donation of $300 gives the Club $300 but costs you $200 after a tax rebate. Please click Make a donation for further information.
We also received a total of nearly $7,000 in donations last year, for which we are all grateful.
We will re-issue 2016 car park stickers on payment of the 2016 subscriptions.
Conclusion
Finally, a big thank you to all of you for continuing to support your Club. There are some big discussions coming up about the future and we also want to continue to attract new players into the game, and encourage members to help new players transition from lessons to club sessions.
From my side, have enjoyed being your President for the last two years, and was able to profit from all the work of previous Committees and Presidents over the years.
We have another tightly fought and close election battle and I encourage our incoming President Anne Barrowclough and her new Committee to enjoy and flourish in their roles, and I very much hope she does not have to chair two AGM's and three SGM's in her term! I am sure you will all give Anne and her Committee your full support.
Anthony J Hopkins 7Nov15
---